If you're starting out on the keto diet and wondering how you're going to manage to deal with those sweet cravings, we've got you covered. Giving up on cookies is one the hardest efforts ketoers have to make but what if we told you can eat cookies while on keto?
No, there's no keto police waiting to attack!
We're talking about keto cookies. We believe that it's best you save up your will-power for more important things like hitting the gym more often. When it comes to cookies, just keep a jar full of crunchy keto cookies of your favorite kind whether they're keto peanut butter cookies or keto shortbread cookies or keto chocolate cookies.
This article will serve as your ultimate resource & a guide to keto and low carb cookies. From the baking ingredients – which flours and sweeteners to use – to different types to tips for making the most crispy, chewy, yummy cookies, we guarantee that you will not need anything beyond this to make perfect keto and low carb cookies. So happy baking!
We also collected a resource of the favorite keto cookie recipes that experts vouch for. Keep it handy because you're going to need it once you're through with this guide!
1.   What are low carb / keto cookies?
As the name suggests the most obvious, low carb keto cookies are cookies that can be eaten on a keto diet. These cookies carry less than 3-4g of carbs per serving. While they taste as good as (if not better than) regular cookies, they're made slightly differently with different (keto-friendly) ingredients. 
2.   Why eat cookies on a keto diet?
Cookies are the best treats to satisfy sweet cravings and if you've been on keto for a while, you know these cravings return ever so often! 
Keto cookies are usually so simple with few ingredients that they can be easily made at home and don't require expert cooking skills. Just follow a good recipe with the right ingredients and there's little chance the results won't satisfy you.
The simplicity allows for ease and convenience which is the key to stay in keto long term. 
Cookies already come with in-built portion control! Since they're so easily quantifiable, you know how many carbs you're consuming with each cookie.
They are versatile. There are dozens of different varieties so you know you're not getting bored of them anytime soon!
They're great for the entire family, especially the kids! You know you won't need to make separate keto and non-keto versions to satisfy your loved ones while you're pulling your way through keto.
Keto cookies are storage friendly- you make a big batch and you're done for the whole holiday season (unless they disappear too soon because they're just THAT unavoidable!)
Cookies are great to carry along to work to serve as a keto snack
They also make a great travel-friendly keto food option.
Most keto flours are gluten-free which means that keto cookies are also great for those with gluten-allergies.
3.    What kind of baking flours to use?
On keto, you need to consume as few carbs as is possible. This is why we use grain free flours that are usually made of nuts and seeds. They're easily available at the stores and can also be ground fresh at home. 
One big advantage of these flours is that they are gluten free and therefore also great substitutes for those with gluten allergies.
Nut-based flours
i.  Almond Flour
Almond flour is simply ground almonds- blanched with the skin removed. It is the perfect substitute for wheat flour when it comes to baking cookies. It is very low in carbs (6g total and only 3g net carbs per serving of 1/4th cup of 28g) and is great for regulating the blood-insulin level. It also reduces the risk of heart diseases as it contains mono-saturated fats. It is also high in protein (6g per serving), vitamin E and manganese.
 Almond flour is gluten-free and heavier than the regular wheat flour, hence it requires a binding agent like ground flaxseeds, xanthan gum or psyllium husk. 
This flour is best stored in an air-tight container in the fridge since it has a tendency to go bad fast.
ii.  Almond meal
Almond meal is the same as almond flour except that almonds are ground with the skins which gives it a brownish color. Otherwise, nutritionally and baking wise, it is the same as almond flour. Almond meal gives a crumblier texture than almond flour. On the other hand, for crisp cookies, finely ground almond flour is a better bet.
iii.  Coconut Flour
Coconut flour is made by grinding the by product of coconut milk dried at low temperatures. It is high in fat and has relatively higher carbs (16g total and 4g net carbs per 28g). It is a highly absorbent flour and needs  a binding agent to hold together. 
Because coconut flour is highly absorptive, it is not considered ideal for cookie baking by many but it's great for those who like moist, crumbly cookies.
Conconut flour is best stored in an airtight container in the fridge or in a cool, dark pantry.
iv.  Other nut-based flours
Peanut, pecan, hazelnut and walnut flour are made by crushing and de-fatting their respective nuts. They can also be used as substitutes for keto baking, each carrying its own subtle flavor of its nut. However, these are less used because they are rarely available and harder to work with but definitely worth a try if you wish to experiment.
Seed Based / Non-Nut Based Flours
i.  Flax Meal / Ground Flaxseed
Flax seed flour is a highly nutritious flour since flaxseeds are high in Omega 3s and Vitamin B and very low in carbs (10g total and 4g net carbs, 6g protein per serving of 28g).
This flour is a great substitute for eggs and therefore popular among vegan bakers. In order to substitute eggs, mix a tablespoon of flax meal in 3 tablespoons of water, beat it and allow it to rise. Do remember that this is not an absolute replacement for eggs, so it's best to just leave out recipes heavily based on them.
ii.  Sunflower seed flour
Sunflower seed flour is great for those with nut allergies and can be equally substituted for almond flour. It contains 4g net carbs, 6g total carbs in a 28g serving. It is very nutritious with a high content of copper, thiamine, phosphorus and Vitamin E. 
One should keep in mind that sunflower seeds have a very specific flavor that is not liked by all, so it is best to try it before making a big batch with it. It is also slightly expensive and harder to find than almond flour but can be ground at home in a coffee grinder.
Sunflower seed flour also tends to get rancid quickly so it is best to store it in an airtight container in the fridge.
iii.  Psyllium husk
While it's not exactly a flour as such, psyllium husk can be used as a flour substitute in keto baking. It adds volume and thickens the mix. It is especially great if you want your cookies moist with a rough, crumbly texture. Psyllium husk is a great source of dietary fiber and therefore useful in maintaining a healthy gut (which is a usual problem in keto). The best advantage is that it is very low in carbs (2g per 28g serving).
4.    Binding Agents for Gluten-Free Flours
Since most of the flours used in keto baking are grain-free, hence gluten free, it is common to see recipes including binding agents like-
i.  Xanthan Gum
Xanthan gum is the most popular binder in keto baking. It is gluten-free and made from sugars that are fermented with bacteria. It adds shape and structure to keto cookies, several keto bakers swear by it. 
ii.  Psyllium Husk
Psyllium is again very popular among ketoers because it serves as a source of dietary fiber and is an excellent binder adding volume and thickness to the dough. It is also inexpensive and generally a useful ingredient to have in your pantry to replace corn-starch in dishes that need thickening.
5.  If not sugar, then what sweeteners to use?
While there are tons of natural sweeteners to replace regular sugar, here are your best options when it comes to keto cookies and keto baking in general-
i.  Erythritol
Erythritol is a sugar alcohol that tastes almost like regular sugar but with 5% of the carbs. Here are some points to note about this keto sweetener:
It is the most preferred choice of sweeteners for most keto cookies. 

The only difference in taste from regular sugar is that it has a cooling feel in the mouth 

Unlike most of the other sugar alcohols, erythritol doesn't cause digestive issues and can be freely substituted.

Erythritol has 80% of the sweetness of regular sugar so you may have to add an extra bit (133g for every 100g of regular sugar) to get the same sweetness. It also acts as a bulking agent in the cookie dough.

Also, erythritol is slightly difficult to mix with water so it gives the cookies a slightly granular texture.
ii.  Stevia
Stevia is a plant based sweetener that is non-nutritive with little or no carbs. While using stevia as a sweetener, always remember that
Stevia is very sweet, you can replace a 200g cup full of regular sugar with a 4g teaspoon of stevia

It has a very strong metallic aftertaste which bothers many making it less of a preferred choice. It is also blended with erythritol in several cases.
iii.  Natvia
Natvia is a blend of Stevia and Erythritol. It serves as a great substitute for either of them
It has the bulking property of erythritol with the sweetness of stevia

The intense aftertaste of stevia is masked to a huge extent.
iv.  Monk Fruit
Monk fruit is a natural sweetener which contains antioxidants that add the sweetness to it. 
Monk fruit is non-nutritive with zero carbs and is extremely sweet- about 200 times that of regular sugar. 

It doesn't have the strong after-taste of stevia but is usually available in stores blended with other sweeteners like erythritol. This blend is again ideal for baking cookies and can be replaced 1:1 for sugar.

Be sure to check the ratio because each brand may have its own variation.

Also, while monk fruit itself doesn't cause blood-insulin levels to spike, the other ingredients it comes mixed with may contain carbs. Be sure to check before you buy.
iv.  Xylitol
Xylitol is also a sugar-alcohol and is usually seen in sugar-free candies and mints. 
Like Erythritol, it also has a slight cooling taste but no after-taste. It has anti-bacterial properties and is used for the treatment of certain infections.

It is as sweet as regular sugar and can therefore be replaced 1:1.

It is not the most preferred choice of sweeteners for cookies because it tends to absorb moisture to make the cookies dry unless that's what you're going for.

Xylitol is best used in limited quantities as it can cause some gastrointestinal issues.
v.  Swerve
Swerve is one of the favorites of keto bakers because it's closest to regular sugar and in the same granular form. It is a blend of erythritol and oligosaccharides and is completely natural.
It can be replaced for sugar 1:1 and it also adds the bulk that sugar does apart from caramelizing and holding its shape.

Swerve doesn't contain any calories and does not affect the blood sugar level.

However, it is known to cause some digestive issues if consumed in larger quantities.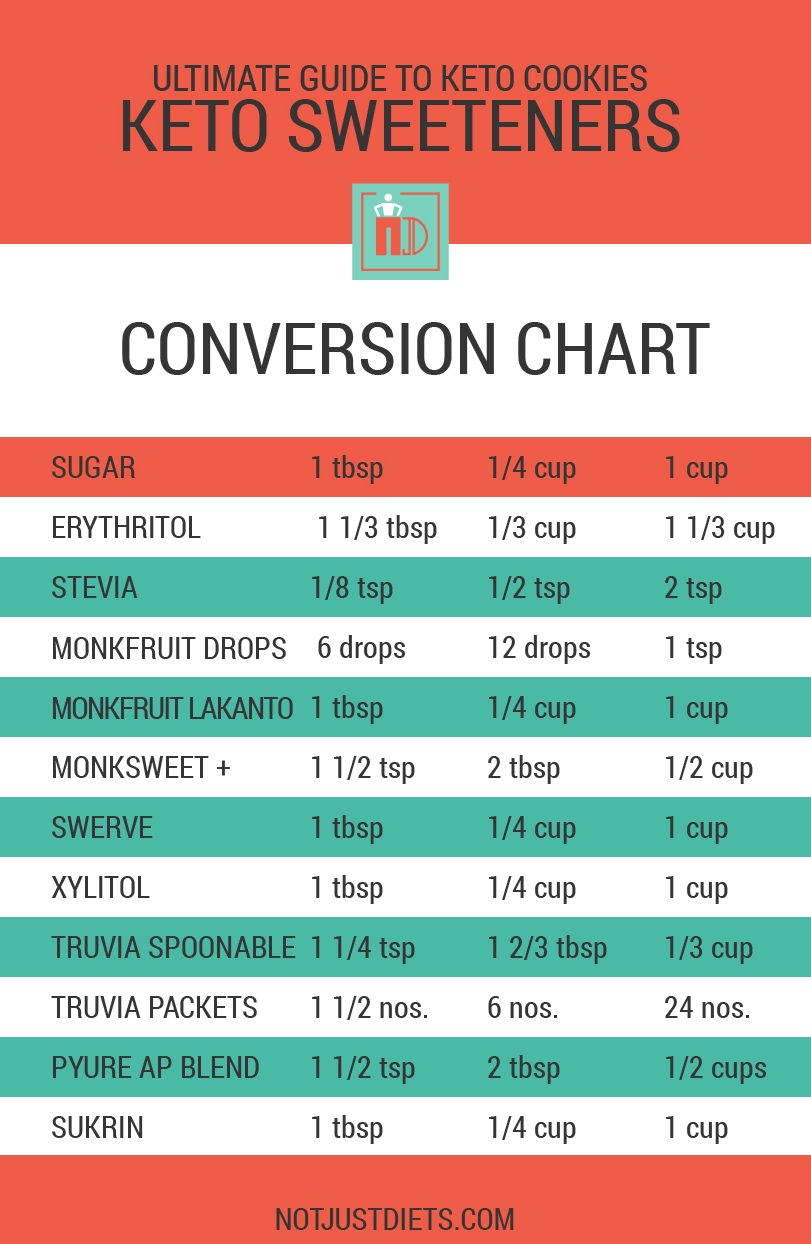 6.  Are there Vegan Substitutes too?
Butter is one of the main ingredients in cookies- it is the reason why they're so crispy and crumbly. Does it mean that vegan keto-ers are in the soup? Not at all!
Butter could be replaced with coconut oil or nut-butter. In fact several cookie recipes are nut-butter based. Coconut oil may add a different texture to the cookies- they tend to melt more quickly but that can be controlled with a good binding agent. Honestly, a lot of it is about experimenting with different ingredients and proportions till you hit your spot.
Recipes that include eggs can be replaced with flaxseed flour mixed in water. This serves well in smaller quantities though, it is best to avoid recipes that are very egg-heavy.
7.  Additions to Your Cookie Dough
While the plain-old sugar cookies can be delighting all by themselves, there's so much more you can experiment with when it comes to cookies whether it's with the all-time favorite chocolate to the crunch of nuts or the flavor of berries when they're in season. Here are some ideas for additions to your cookie dough to make your keto cookies more exciting.
i. Dark Chocolate
It might be surprising but you can eat chocolate while on keto and it makes for a great addition to cookies. In fact cocoa has several benefits too. It is rich in antioxidants and flavanols which are known to regulate blood pressure and keep the arteries clean, thereby reducing the risk of heart diseases.
Keep in mind that each serving of 1/4 cup (28g) of 100% unsweetened cocoa contains 3g net carbs, making it totally worth an addition to your keto cookies. Do check the labels while buying though since lower cocoa percentages (even 70-80%) may contain more net carbs.
Add chocolate in any form you like
chocolate chips – they're a universal favorite
chocolate bars can be melted and mixed with butter to get a rich chocolate flavor
cocoa nibs can give nice chunky bits of chocolate which taste great especially when the cookies are fresh made and the chocolate is still gooey… yum!
cocoa powder can be mixed with flour to make chocolate cookies
ii. White Chocolate
White chocolate is technically not chocolate because it doesn't contain any cocoa but nevertheless, it makes for a great addition to you cookies if you looking for chunks of creamy sweetness in them.
White chocolate is from cocoa butter, milk powder, sweetener, coconut oil, vanilla and lechtilin (stabilizer/binder). You can easily make white chocolate at home and that's a huge advantage because you can totally control the net carb quantity.
Typically, white chocolate contains 2g net carbs per serving of 1/4 cup or 28g.
iii.  Berries
When berries are in season, you want to include them in just everything and why not! They're so full of nutrition and flavor that they definitely deserve an addition in cookies. Also, since a lot of fruits are eliminated in keto due to their high carb count, you should definitely include berries in your diet, one way or another. They are low in carb, full of antioxidants and are a great source of dietary fiber.
The carb counts of different berries varies from 6-12g net carbs per serving. Use the visual guide and save it for future reference!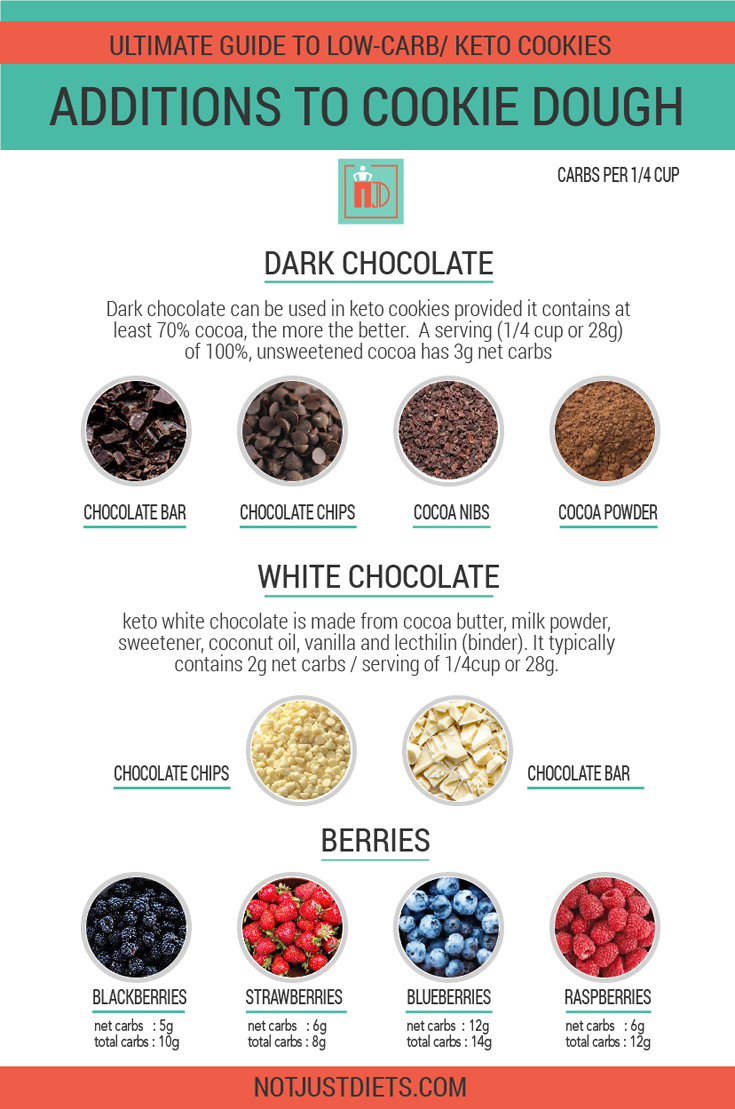 iv.  Nuts & Seeds for Crunch
Nuts and seeds are great for keto as they're high in fat, low in carbs and are packed with nutrition. Eating nuts is known to reduce the risk of heart diseases. They are also rich in fiber which makes you feel full faster and for longer.
Nuts are a very common addition to cookies, in fact a lot of cookies are based around certain nuts. Most of our keto flours are already nut-based, adding chunks of the same can give a nice bite and crunch to your cookies. The carb counts of each nut and seed type varies between 0-8g. Refer to the visual guide for respective carb counts of several nuts and seeds. Keep a printed copy in your kitchen for ease when you're baking next time!
8.  How to Get the Perfect Texture?
Cookies are the best because they're so versatile, there's always some form to satisfy your sweet cravings for something crisp or chewy or soft. If you're aiming for a particular texture, keto cookie baking can sometimes get a little tricky because there's so much difference in the ingredients among different brands and following a recipe can sometimes be a bit of an experimental process unless you find the exact same ingredients and followed the instructions to the T and that too sometimes may not give you the perfect product.
I'm putting down a few tips from experience and research to arm you with the necessary information so that your cookies turn out just the way you want them to.
For a chewy texture
For crunchy yet chewy cookies, erythritol is the best bet. 

If you like them to be really soft and chewy, use xylitol. Your cookies will spread more and may take almost a day to firm up.

For moist and chewy, use coconut flour

Almond flour is the most ideal choice for a chewy texture but if you'd rather go with a non-nut based variant, sunflower seed flour is probably your most ideal substitute.

Use xanthan gum so your cookie is held together well and it doesn't spread too much.
For a crispy texture
Again, erythritol is the best sweetener option for crunchy and crispy cookies

You're better off without coconut flour- it's the worst idea for crispy cookies

Use almond flour that is finely ground

Using pure stevia as a sweetener can make your cookies hard as rock; it's best to use a blend of stevia and erythritol
For a melt-in-the-mouth texture
Use sweeteners that are finely ground, whatever you use

Cream your butter and sweetener sufficiently

You're probably stuck with non-vegan here as eggs and butter are the best for the perfectly melting cookie. Melt the butter well before mixing with the flour and make sure that your flour proportion doesn't increase. 
Once you have all your ingredients mixed and have the dough ready, it's time to shape the cookie. The thickness and consistency of the dough varies depending on how you're shaping your cookies. Cookies are often categorised based on the way they're shaped. Here are the common ones –
Drop cookies
You simply drop balls of dough on a baking sheet and bake them. The dough is of a relatively loose consistency. The cookies then spread while baking depending on the binding agent you've used. This method of shaping is super easy as it doesn't involve any rolling.
Example – Chocolate chip cookies
Rolled cookies
The dough is rolled into a sheet and cookies can be cut out in any shape of choice. The dough needs to be relatively firm for rolling.
Rolling is generally difficult in keto cookies because the flour is gluten-free and it tends to crumble. Of course binders do help but there's one tip you'll find useful-keep the dough in the fridge for 15-20 minutes so it's firm while rolling. It's also a great idea to roll the dough between cling-film so that it doesn't crumble or stick to the rolling pin.
Example – Ginger bread cookies
Moulded Cookies
Cookies can also be hand-moulded to desired shapes. Of course, this asks for a little more experience but it can be a fun process, especially with the kids. Again, the dough needs to be stiff, yet pliable so you might be looking at adding some xanthan gum in your dough.
Example- Candy cane cookies
Pressed Cookies
As the name suggests, cookies are pressed into shape using a cookie press. The dough needs to be stiff so it's kept in the fridge to cool and firm up before shaping the cookies. Pressed cookies can be fun too as cookie presses come in different shapes.
Example- Spritz cookies
Thumb Print Cookies
They're shaped by making little balls of dough with the hands and pressing them in the middle with the thumb. You can fill in the depression with chocolate or berry sauce.
Bar Cookies
The dough in these cookies is more like batter which is pressed or poured in a pan and then baked.
Example: Blondies
Sliced Cookies
Again, the dough is stiff and moulded into a cylindrical shape and firmed up in the fridge for a few minutes after which it is sliced into perfect rounds with a knife.
Example: sugar cookies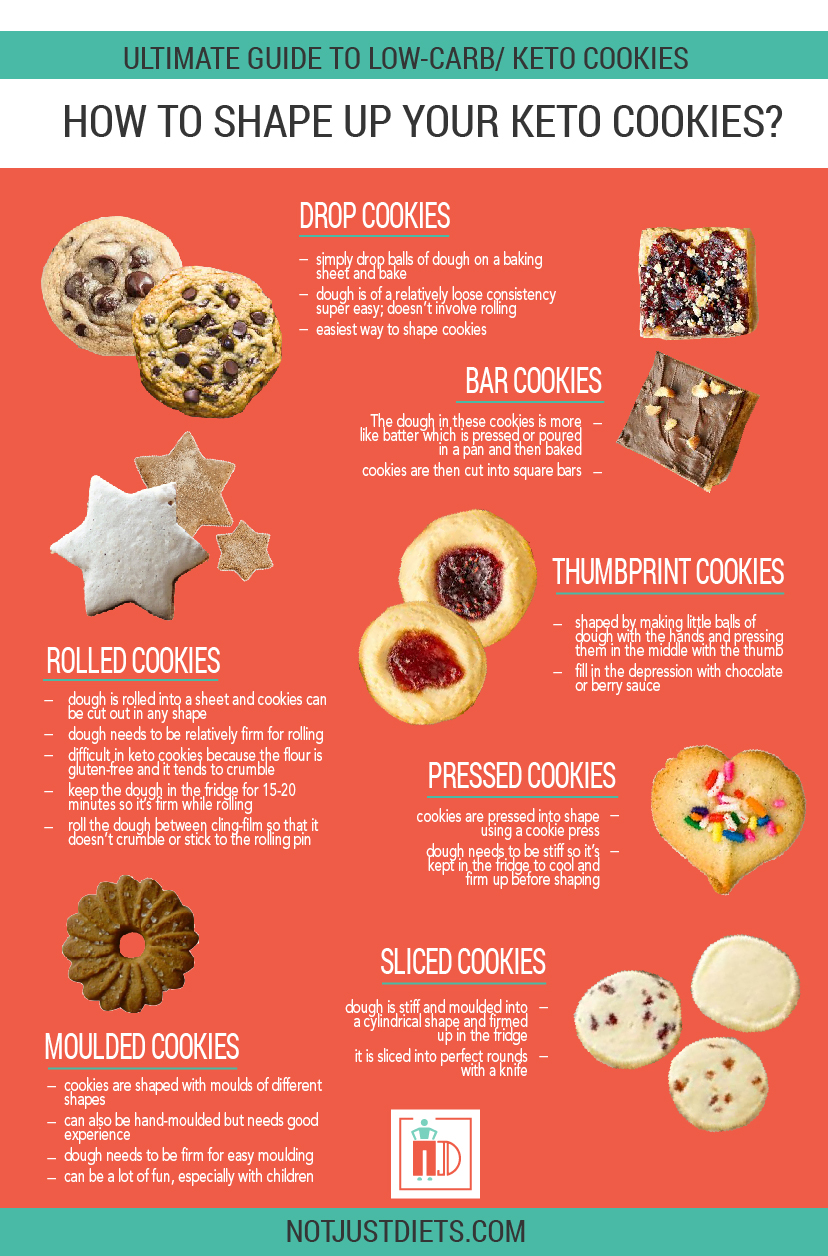 Whether you were already familiar with keto foods and ingredients or you started out as a complete noob, you should now have a fairly good idea about baking keto cookies. Well, at least your basics are set, you know what goes in to the cookies and you also have a few tips.
Armed with this knowledge, you will feel a lot more confident on your keto journey to weight loss. At least you know how you can deal your sweet tooth so that you no longer have to have your heart broken thinking about cookies.
Take this knowledge to the next level by trying out one or more of the 17 keto cookie recipes shared by experts.
Share this keto cookie guide with friends and family who may find it useful. 2020 is going to be a great year for your keto efforts- it's going to be sugar-free, carb-free but definitely not cookie-free.